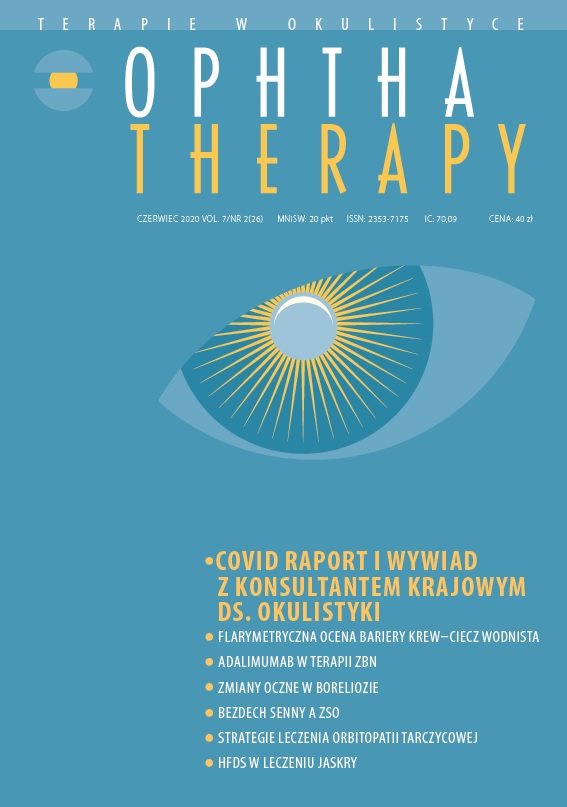 Dear Readers,
Despite the pandemic, we publish "OphthaTherapy" without any delays.
In this issue you will find articles related to ophthalmological problems that arise in the midst of pandemic.
Among them, two special reports on contactology in the era of coronavirus and the consequences related to lower attendance rate at ophthalmic outpatient clinics during the pandemic.
You might be interested to read an interview with prof. Marek Rękas, the National Consultant for Ophthalmology, who addresses a very current topic of safety in ophthalmic procedures during the pandemic, as well as an article written by our colleagues from Wroclaw on treating patients with dry eye syndrome in this difficult time.
Besides topics related to coronavirus, you will find 12 articles on the problems related to treating eye diseases, particularly the ones affecting retina and choroid. The articles discuss the prospects for clinical application of new RENEXUS® implants in macular telangiectasia, treatment of uveitis, retinal and optic nerve inflammation in the course of Lyme disease, the use of adalimumab in the treatment of uveitis, as well as retinal laser therapy. Our Bulgarian colleagues wrote a very interesting article regarding the changes on the eye surface in sleep apnea. The remaining articles concern the treatment of thyroid orbitopathy, glaucoma, complicating cataract, dacryocystitis, individual approach to treating dry eye syndrome, and eye ultrasound.
We hope that everyone will find something interesting in this broad issue of "OphthaTherapy".  
Published: 2020-06-30