"OphthaTherapy. Therapies in Ophthalmology" (abbr.: OphthaTherapy) is a peer-reviewed scientific quarterly publishing papers in: ophthalmology, ophthalmic surgery (including minimally invasive surgery and laser therapy), pharmacological treatment of eye diseases, including glaucoma, as well as work in the contactology. The journal is on the list of the Polish Ministry of Science and Higher Education. For publishing the article, the author receives 20 points.
We encourage you to submit: original papers, review articles, case reports, rapid communication, research letters, hypotheses, meeting proceedings, letter to the editor. We guarantee fast publication. There are no submission or processing charges.
"OphthaTherapy" accepts submissions in English only. Other language versions may be published as additional ones.

e-ISSN: 2543-9987 ISSN: 2353-7175 DOI: 10.24292/01.OT

Indexed in: Polish Journals Master List: 20 points
Index Copernicus:72.79
Google Scholar
Polish Scientific Journal Database
ARIANTA
WorldCat
Vol 8 No 2 (2021)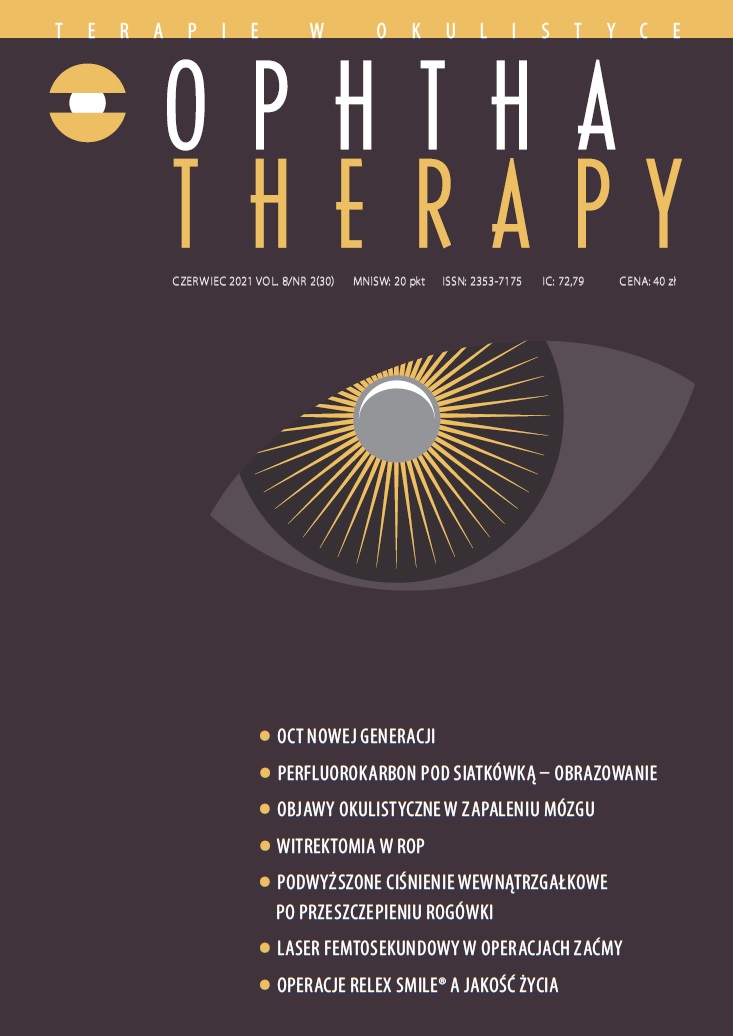 Szanowne Koleżanki i Szanowni Koledzy,
pomimo bardzo gorącego lata zespół redakcyjny przygotował dla Państwa drugi w tym roku numer "OphthaTherapy. Terapie w okulistyce". Zeszyt obejmuje osiem prac dotyczących diagnostyki, leczenia zachowawczego oraz chirurgii i laseroterapii schorzeń narządu wzroku.
W dziale Diagnostyka znajdą Państwo dwa artykuły opisujące zastosowania optycznej koherentnej tomografii (OCT, optical coherence tomography) w diagnostyce schorzeń narządu wzroku. Pierwszy z nich omawia nowe możliwości diagnostyki schorzeń oczu za pomocą aparatów OCT nowej generacji. Drugi z nich, napisany przez naszych kolegów z Madrytu, opisuje zastosowanie OCT w diagnostyce przemieszczonych pod siatkówkę płynów perfluorokarbonowych po operacji witrektomii. Prace te potwierdzają, że obecnie OCT jest niezastąpioną metodą w diagnostyce chorób przedniego i tylnego odcinka oczu.
W dziale Terapie zachowawcze autorki z Krakowa opisują przypadek 8-letniego chłopca z ostrym rozsianym zapaleniem mózgu, u którego pogorszenie widzenia było pierwszym objawem choroby. W drugiej z publikacji w tym dziale, napisanej przez autorów z paru różnych ośrodków, wskazuje się, że w najbliższym okresie, 10–30 lat, system opieki okulistycznej w Polsce czekają liczne wyzwania związane ze starzeniem się społeczeństwa, z coraz częstszym występowaniem okulistycznych i ogólnych schorzeń przewlekłych, ze spadkiem liczby lekarzy okulistów i pielęgniarek oraz z niedoborem optometrystów i optyków.
Największy dział w niniejszym zeszycie to Chirurgia i laseroterapia, obejmujący cztery publikacje. Pierwsza z nich jest poświęcona wynikom anatomicznym i czynnościowym ponad 1000 witrektomii wykonanych przez autora pracy w ciągu 25 lat u dzieci z 5-letnim okresem retinopatii wcześniaków. W następnej autorzy omawiają występowanie jaskry po przeszczepieniach rogówki w oparciu o przypadki własne. Dwie ostatnie prace w tym dziale są poświęcone nowym zastosowaniom lasera femtosekundowego w chirurgii zaćmy oraz laserowej korekcji wad wzroku.
Mam nadzieję, że każdy z naszych Czytelników znajdzie w tym zeszycie interesujący dla siebie artykuł.
Redaktor Naczelny
Prof. dr hab. n. med. Marek E. Prost
Published: 2021-06-30
View All Issues