"OphthaTherapy. Therapies in Ophthalmology" (abbr.: OphthaTherapy) is a peer-reviewed scientific quarterly publishing papers in: ophthalmology, ophthalmic surgery (including minimally invasive surgery and laser therapy), pharmacological treatment of eye diseases, including glaucoma, as well as work in the contactology. The journal is on the list of the Polish Ministry of Science and Higher Education. For publishing the article, the author receives 20 points.
We encourage you to submit: original papers, review articles, case reports, rapid communication, research letters, hypotheses, meeting proceedings, letter to the editor. There are no submission or processing charges.
"OphthaTherapy" accepts submissions in English only. Other language versions may be published as additional ones.

e-ISSN: 2543-9987 ISSN: 2353-7175 DOI: 10.24292/01.OT

Indexed in: Polish Journals Master List: 20 points
Index Copernicus:72.79
Google Scholar
Polish Scientific Journal Database
ARIANTA
WorldCat
Vol 9 No 4 (2022)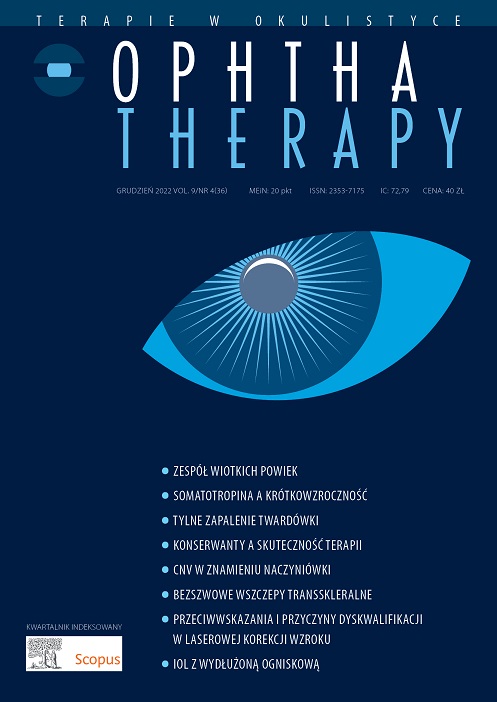 Szanowni Państwo,
niniejszym zeszytem kończymy 9. rok wydawania "OphthaTherapy. Terapie w okulistyce".
W obecnym numerze będą się Państwo mogli zapoznać z dziesięcioma pracami dotyczącymi różnych aspektów terapii schorzeń siatkówki.
W pierwszej z nich omówiono klasyfikację, diagnostykę i leczenie zespołu wiotkich powiek – schorzenia, które występuje zazwyczaj u osób w starszym wieku oraz otyłych. W dziale Terapie zachowawcze będą mogli Państwo przeczytać cztery artykuły. W pierwszym przedstawiono wyniki badań klinicznych nad zwiększonym występowaniem krótkowzroczności u dzieci, u których stosuje się hormon wzrostu. Problem ten będzie narastał, ponieważ coraz więcej dzieci leczonych jest tym hormonem. Następna praca podejmuje zagadnienie, czy środki konserwujące, mimo negatywnego działania na powierzchnię oka, powodują zwiększenie penetracji substancji czynnej do jego wnętrza. Dwa ostatnie artykuły są poświęcone występowaniu neowaskularyzacji naczyniówkowej u pacjentów ze znamieniem naczyniówkowym oraz opisowi przypadku klinicznego dotyczącego surowiczego odwarstwienia siatkówki i obrzęku tarczy w zapaleniu tylnym twardówki.
W dziale Chirurgia i laseroterapia będą Państwo mogli się zapoznać z czterema pracami opisującymi wtórne wszczepy soczewkowe z zastosowaniem nowej soczewki wewnątrzgałkowej typu Carlevale™, przeciwwskazania ogólne do laserowej chirurgii refrakcyjnej, przyczyny dyskwalifikacji do wykonania operacji laserowej chirurgii refrakcyjnej oraz aktualne możliwości implantacji soczewek wewnątrzgałkowych klasy premium.
Artykuł sponsorowany omawia nowe zastosowania kwasu salicylowego w terapii
schorzeń narządu wzroku.
Życzę Państwu miłej lektury.
Redaktor Naczelny
Prof. dr hab. n. med. Marek E. Prost
Published: 2022-12-31
Surgery and laser therapy
View All Issues