"OphthaTherapy. Therapies in Ophthalmology" (abbr.: OphthaTherapy) is a peer-reviewed scientific quarterly publishing papers in: ophthalmology, ophthalmic surgery (including minimally invasive surgery and laser therapy), pharmacological treatment of eye diseases, including glaucoma, as well as work in the contactology. The journal is on the list of the Polish Ministry of Science and Higher Education. For publishing the article, the author receives 20 points.
We encourage you to submit: original papers, review articles, case reports, rapid communication, research letters, hypotheses, meeting proceedings, letter to the editor. We guarantee fast publication. There are no submission or processing charges.
"OphthaTherapy" accepts submissions in English only. Other language versions may be published as additional ones.

e-ISSN: 2543-9987 ISSN: 2353-7175 DOI: 10.24292/01.OT

Indexed in: Polish Journals Master List: 20 points
Index Copernicus:72.79
Google Scholar
Polish Scientific Journal Database
ARIANTA
WorldCat
Vol 7 No 4 (2020)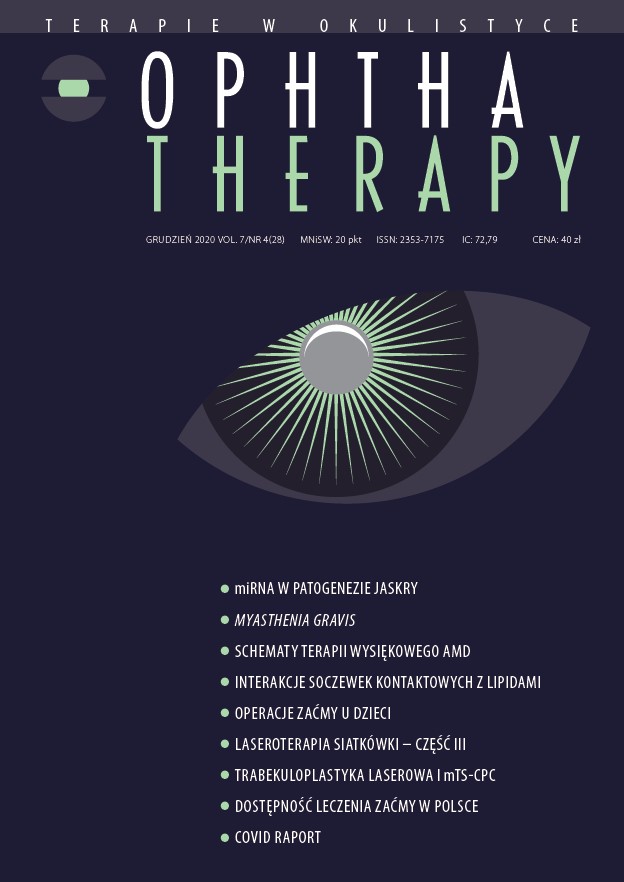 Szanowni Państwo,
przekazujemy ostatnie w 2020 r. wydanie "OphthaTherapy. Terapie w okulistyce". Znajduje się w nim 9 prac dotyczących diagnostyki, leczenia zachowawczego, chirurgii i laseroterapii oraz raport specjalny poświęcony ciągle aktualnemu zagadnieniu, jakim jest profilaktyka infekcji koronawirusem.
Numer ten otwiera artykuł opisujący zupełnie nową metodę diagnostyki jaskry, a mianowicie analizę mikroRNA. Cząsteczki mogą być biomarkerami jaskry, a w przyszłości stać się celem terapii genowej. Następna praca jest poświęcona objawom okulistycznym miastenii, której prawidłowa diagnostyka i wykluczenie jej obecności są kluczowe przed podjęciem decyzji o wdrożeniu leczenia chirurgicznego.
W dziale Terapie zachowawcze mogą się Państwo zapoznać z trzema artykułami. Pierwszy z nich dotyczy ważnego zagadnienia, a mianowicie zmian w schemacie leczenia wAMD. Dwie pozostałe prace są poświęcone zastosowaniu interferonu w leczeniu zmian przednowotworowych nabłonka rogówki oraz interakcji między silikonowo-hydrożelowymi soczewkami kontaktowymi a lipidami.
Najwięcej artykułów w tym numerze dotyczy chirurgii i laseroterapii schorzeń oczu. Dział ten otwiera artykuł przedstawiający aktualne poglądy na temat wskazań do operacji, techniki zabiegu i postępowania pooperacyjnego w chirurgii zaćmy u dzieci, czyli zagadnienia, które jest ciągle przedmiotem różnych kontrowersji, np. dotyczących wszczepiania soczewek wewnątrzgałkowych. Dwie następne prace z tego działu podejmują temat laseroterapii siatkówki i jaskry. Laseroterapia jaskry jest metodą, która bardzo się rozwinęła w ostatnim okresie dzięki wprowadzeniu nowych laserów, bardziej oszczędzających tkanki oka w czasie zabiegu. Dział ten wieńczy publikacja poświęcona ocenie wpływu ostatnich zmian przepisów na dostępność do leczenia zaćmy w Polsce, a więc problemu kolejek do wykonania tej procedury.
Zeszyt zamyka praca poświęcona ciągle aktualnemu zagadnieniu, jakim jest profilaktyka rozprzestrzeniania się infekcji koronawirusem.
Mam nadzieję, że każdy z naszych Czytelników znajdzie w tym numerze intersujący dla siebie artykuł. Pozdrawiam w Nowym Roku 2021 z nadzieją, że będzie on trochę normalniejszy niż poprzedni.
Published: 2020-12-31
View All Issues