"OphthaTherapy. Therapies in Ophthalmology" (abbr.: OphthaTherapy) is a peer-reviewed scientific quarterly publishing papers in: ophthalmology, ophthalmic surgery (including minimally invasive surgery and laser therapy), pharmacological treatment of eye diseases, including glaucoma, as well as work in the contactology. The journal is on the list of the Polish Ministry of Science and Higher Education. For publishing the article, the author receives 20 points.
We encourage you to submit: original papers, review articles, case reports, rapid communication, research letters, hypotheses, meeting proceedings, letter to the editor. There are no submission or processing charges.
"OphthaTherapy" accepts submissions in English only. Other language versions may be published as additional ones.

e-ISSN: 2543-9987 ISSN: 2353-7175 DOI: 10.24292/01.OT

Indexed in: Polish Journals Master List: 20 points
Index Copernicus:72.79
Google Scholar
Polish Scientific Journal Database
ARIANTA
WorldCat
Vol 10 No 1 (2023)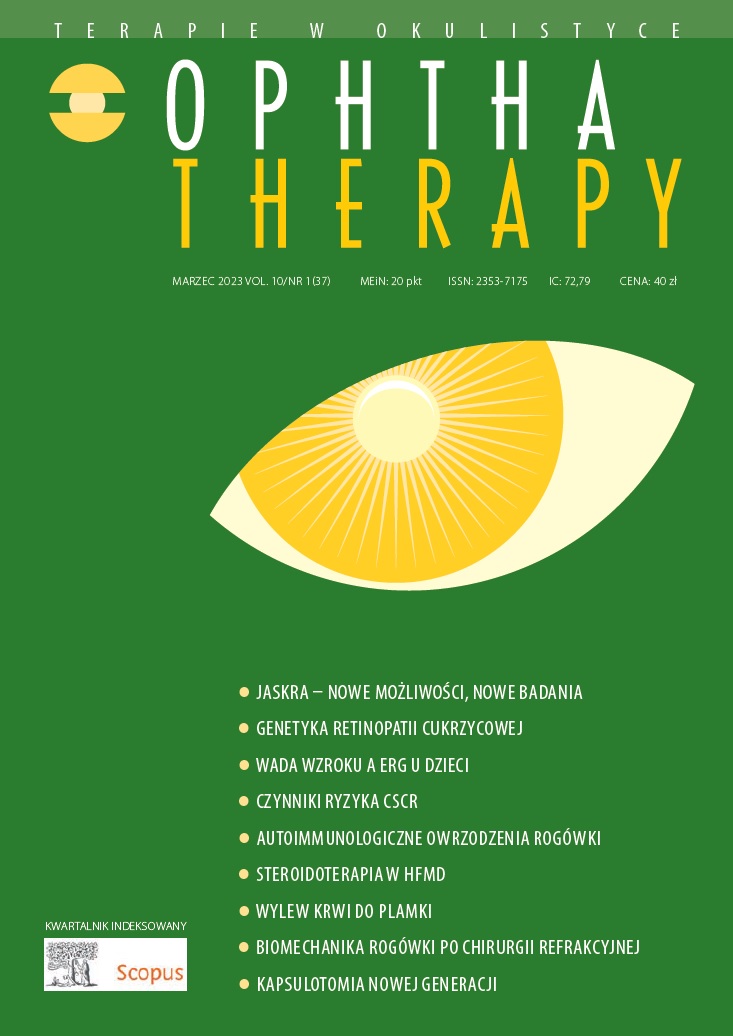 Szanowni Państwo,
numer "OphthaTherapy. Terapie w okulistyce", który właśnie oddajemy w Państwa ręce, rozpoczyna 10. rok wydawania naszego czasopisma. W zeszycie znajdą Państwo 8 prac pochodzących z tak odległych krajów, jak Indonezja. Połowa z nich została przygotowana wyłącznie w języku angielskim – to wymóg naszych czasów. Obecnie angielski stał się praktycznie jedynym językiem, w którym odbywa się wymiana informacji w międzynarodowym środowisku naukowym. Dlatego też, jeżeli chcemy, aby nasze czasopismo miało jak największy zasięgi jak najwyższą ocenę, większość prac powinna być publikowana w języku angielskim. Równie istotne jest zarejestrowanie się w systemie ORCID – międzynarodowym systemie identyfikacji autorów prac naukowych. Każdy autor ma w nim swój osobisty identyfikator cyfrowy, który umożliwia rozróżnienie autorów o tym samym nazwisku i odpowiednie przypisanie publikacji do konkretnej osoby w bazach naukowych takich jak Scopus, Web of Science i innych.
Co Państwo znajdą w obecnym, już 37. wydanym przez nas zeszycie? Na ten temat tym razem nie będę pisał w słowie wstępnym, ponieważ chciałbym, aby nasi Czytelnicy sami zagłębili się w treść tego numeru "OphthaTherapy. Terapie w okulistyce".
Życzę Państwu interesującej lektury.
Redaktor Naczelny
Prof. dr hab. n. med. Marek E. Prost
Published: 2023-03-31
View All Issues