"OphthaTherapy. Therapies in Ophthalmology" (abbr.: OphthaTherapy) is a peer-reviewed scientific quarterly publishing papers in: ophthalmology, ophthalmic surgery (including minimally invasive surgery and laser therapy), pharmacological treatment of eye diseases, including glaucoma, as well as work in the contactology. The journal is on the list of the Polish Ministry of Science and Higher Education. For publishing the article, the author receives 20 points.
We encourage you to submit: original papers, review articles, case reports, rapid communication, research letters, hypotheses, meeting proceedings, letter to the editor. There are no submission or processing charges.
"OphthaTherapy" accepts submissions in English only. Other language versions may be published as additional ones.

e-ISSN: 2543-9987 ISSN: 2353-7175 DOI: 10.24292/01.OT

Indexed in: Polish Journals Master List: 20 points
Index Copernicus:72.79
Google Scholar
Polish Scientific Journal Database
ARIANTA
WorldCat
Vol 9 No 2 (2022)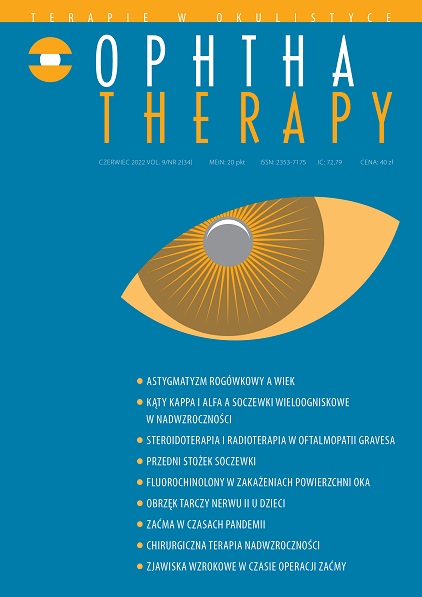 Szanowni Państwo,
mimo gorącego lata zespół redakcyjny "OphthaTherapy. Terapie w okulistyce" przygotował nowy zeszyt czasopisma. Znajdą w nim Państwo publikacje dotyczące różnych dziedzin okulistyki. Numer zaczynamy artykułem na temat zmian astygmatyzmu rogówkowego wraz z wiekiem, od wieku niemowlęcego do późnego wieku dorosłego. Druga, ciekawa praca w dziale Diagnostyka dotyczy znaczenia kątów kappa i alfa w diagnostyce przedoperacyjnej pacjentów nadwzrocznych z zaćmą kwalifikowanych do wszczepienia soczewki wieloogniskowej.
Dział Terapie zachowawcze zaczynamy artykułem, który dokumentuje, że u pacjentów po naświetlaniu oczodołu występuje większe ryzyko rozwoju orbitopatii Gravesa i leczenie tego schorzenia za pomocą glukokortykoidów jest u nich mniej skuteczne. W następnej pracy w tym dziale autorzy opisują bardzo rzadki przypadek stożka przedniego soczewki u pacjenta z zespołem Alporta, który wymaga leczenia chirurgicznego. W kolejnym artykule podjęto się przedstawienia racjonalnej terapii zakażeń powierzchni oka za pomocą fluorochinolonów. Zasady stosowania antybiotyków w leczeniu schorzeń powierzchni oka ciągle jeszcze budzą kontrowersje. Następna praca jest poświęcona diagnostyce i  konsekwencjom terapeutycznym obrzęku tarczy nerwu wzrokowego u dzieci, który może stwarzać problemy w codziennej praktyce okulistycznej.
Dział Chirurgia i­ laseroterapia zaczynamy publikacją analizującą, jaki wpływ na operacje zaćmy w Polsce miała pandemia COVID-19. Druga praca w tym dziale opisuje metody korekcji nadwzroczności za pomocą chirurgii refrakcyjnej. W następnym artykule omówiono wpływ różnych schorzeń na występowanie różnych wrażeń wzrokowych w czasie operacji zaćmy.
W związku z rozpoczęciem letnich wakacji życzę (zapewne już tylko części z Państwa) spokojnego urlopu i odpoczynku od trosk codziennego życia.
Redaktor Naczelny
Prof. dr hab. n. med. Marek E. Prost
Published: 2022-06-30
View All Issues